In partnership with expertly trained artisans in India, Jaipur Living's handcrafted designs are works of rug artistry. Take a behind-the-loom look inside the process.
Human Nature
Working with more than 40,000 weavers from over 600 villages in rural India, Jaipur Living has a catalog of thousands of expertly made rugs, poufs, pillows, and throws. Following a rigorous yearlong training course, artisans graduate with high-level skills in rug-making, including a mastery of handweaving and translating rug maps, which dictate the design story from concept to yarn-filled reality. 
See also: 9 Designer Favorite Artisan-Made Rugs
Step By Step
Each Jaipur Living product is touched by human hands—from finishing and perfecting power-loomed styles to the weaving magic required of one-of-a-kind Manchaha rugs. Here's the step-by-step process.
Designing & Mapping
Jaipur Living's in-house design team works to identify trends and interprets them into a diverse range of rug collections. Our artisans follow rug maps—similar to needlepoint stitch guides—as they translate the designs into reality.
Raw Materials
Raw materials—think wool, cotton, viscose, jute, and more—are selected based on the rug's needs. For wool, all materials are sourced from sheep that are sheared ethically and humanely as a natural part of their health and maintenance routine.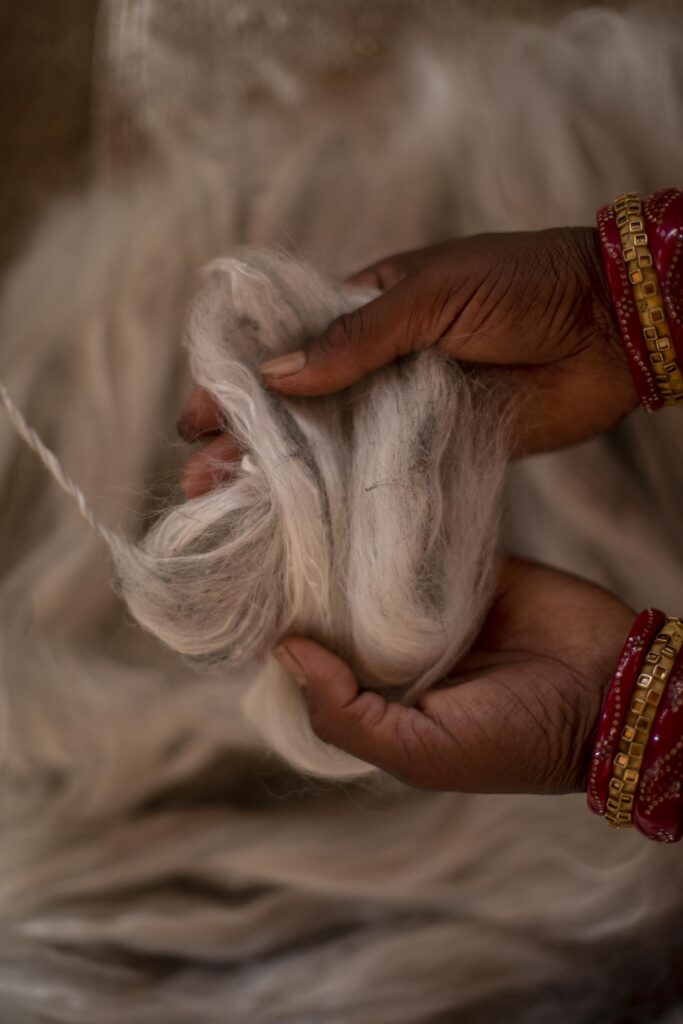 Dyeing
The desired color is achieved using two types of dye: natural or synthetic. Until the late 19th century, only natural dyes extracted from plants, animals, or minerals were used. Jaipur Living uses Swiss chrome chemical-free or vegetable dyes.
Weaving
For hand-knotted rugs, artisans tie a piece of yarn around two neighboring warp straps to create a knot on the surface of the rug. This process is repeated one knot at a time until the rug is complete. A rug's quality is determined by its knots per square inch.
Finishing
During finishing, the rug is checked for quality, shaved, repaired as needed, washed, stretched, carved—the process of creating a pile—and bound to keep the edges from fraying.
"Artisans and their families are the epicenter of our Jaipur Rugs and Jaipur Living families, and we believe that it's not us, but them who script our progress."
—Divyankshi Puri, Jaipur Rugs
Touch Points
Taking on average two months and four skilled weavers to complete an 8-foot by 10-foot rug, artisans are best known for their handiwork on hand-knotted, handwoven, hand-tufted, and flat-woven rugs, with each rug construction telling its own story.
Hand-Knot
Made from individually made knots tied one row at a time on a vertical loom, hand-knotted rugs take artisans around 240 days to make, are typically crafted from durable wool or wool blended with silk or viscose, and are meant to last for generations when properly cared for.
Handwoven
Also called hand-loomed rugs, handwoven styles are made on hand-operated looms. Weavers use a rod to drive fibers—felted or twisted wool yarn, supple viscose, synthetic yarn, and textural natural fibers are most common—vertically across the loom and back again.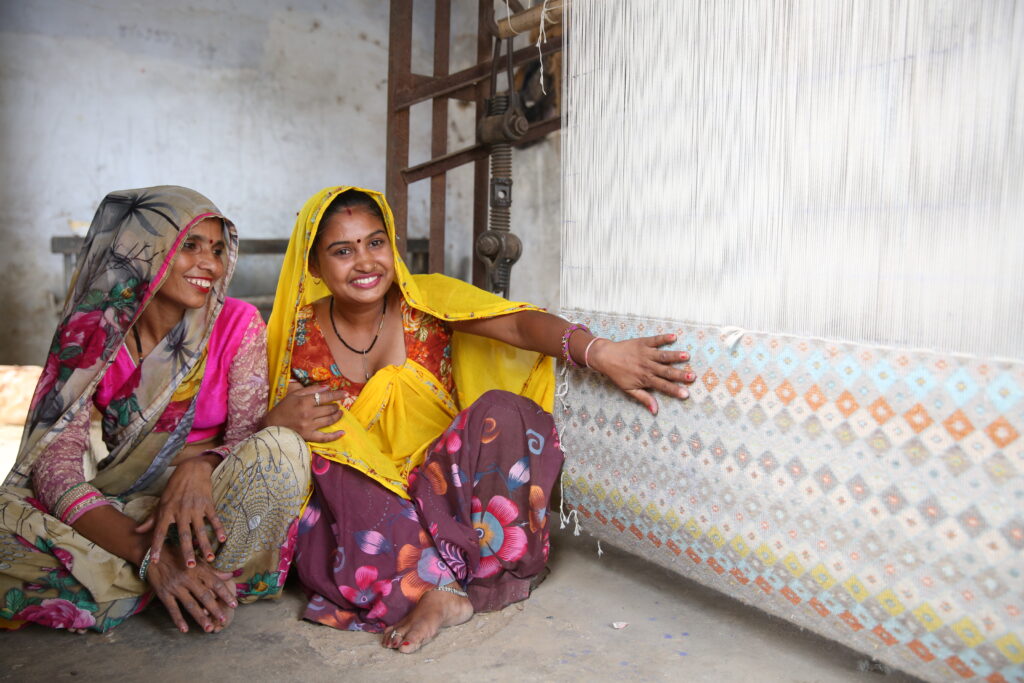 Hand-Tufted
In hand-tufted rugs, yarn is hand punched through a prewoven fabric with a specialized tufting device. Thanks to the construction process, these rugs tend to have a plusher pile, more intricate designs, and are generally made of wool and/or viscose. A cotton-latex backing offers the rug stability and helps hold the yarn in place.
Flat-Woven
Flat-woven rugs, or dhurries and kilims, have a much flatter finish thanks to their warp and weft threads, which run perpendicular to the other. Crafted from wool, cotton, natural, or synthetic fibers, these styles are often durable, reversible and easy to care for.
See also: What Is Bunkar Sahki?
Giving Back
From its beginnings, Jaipur Living has worked directly with its artisans—removing the middleman to ensure fair wages for its weavers and paying on a predetermined schedule to provide financial stability. We believe it is our responsibility to give support and provide opportunity for artisans to thrive and create a bright, healthy socio-economic future. In partnership with the Jaipur Rugs Foundation, we aid rug-makers through social and entrepreneurship development, education programs, accessible health care, and food security.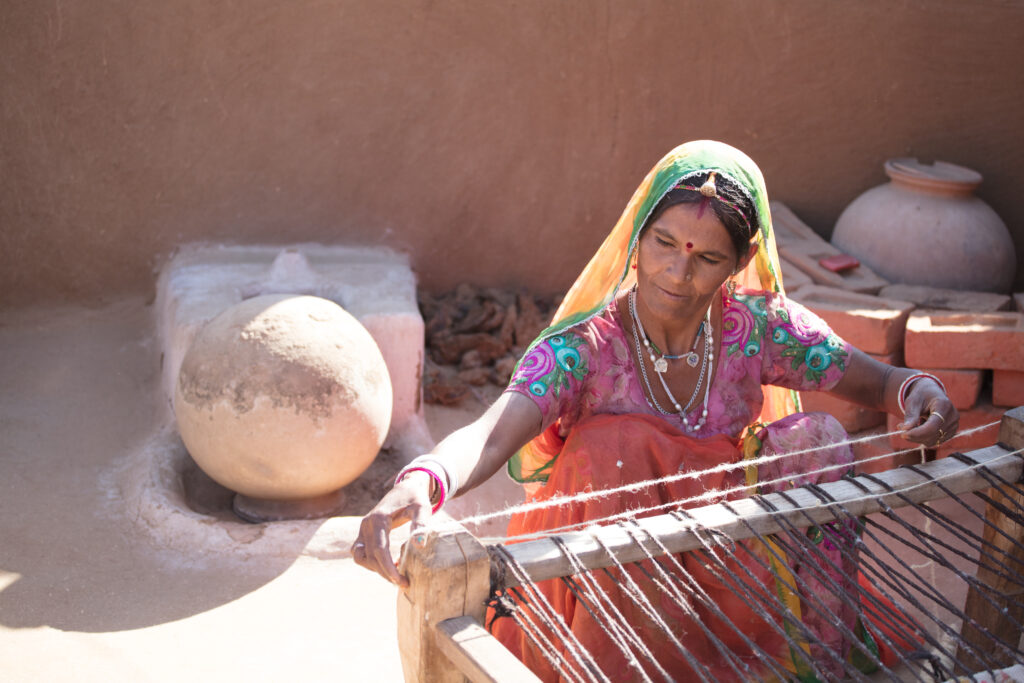 Beyond standing programs like regular health care check-up camps and alternative education programs, the foundation has joined with many organization to address critical needs. Recently, JRF collaborated with organizations like Corporate Rebels Foundation, HCL Foundation, Rajasthan Royals Foundation, and more to provide skills and grassroots leadership development in Rajasthan and Uttar Pradesh. These programs were extended during the COVID-19 pandemic to teach the skills necessary for earning a basic income.
Other recent initiatives include a drive with Feeding India by Zomato to distribute 5,000 food kits—and growing!—to families in need; a partnership with Project Baala to promote menstrual education, health, and hygiene; delivering winter clothes to more than 4,000 people alongside Goonj; teaming with the British Council and Arts School London on a project that advances economic empowerment for rural women weavers in Jaipur; and so much more.
Want to learn more about the work Jaipur Rugs Foundation does? Dig deep here.