Let's Talk Design
Jaipur Living sits down with interior designer Kathy Kuo to get her expert answers to 10 burning design questions.
How did you get your start in interior design?
I started Kathy Kuo Home out of the recession in 2008. I was working at Interlude Home—one of our current furniture vendors—at the time and was laid off in the wake of the recession. I had been Interlude's first designer and worked there for four years, starting as a freelancer and working my way up the ranks of product development and sourcing to ultimately seeing the product come to life in a showroom or retail store. We launched about 500 new products and doubled the business during my tenure there, and I really loved my job. When I was laid off, it was one of those things where I kind of saw it coming, but it still stung.
In that moment of uncertainty in my career, I thought to myself: "What can I do with the learnings that I had here? Maybe I'll start tinkering around and figure out how to launch an online business on my own."
I ended up working as a product designer for Bed Bath & Beyond while trying to get Kathy Kuo Home off the ground and working with an old friend to get a website created. Ultimately, I decided to take the scary leap to quit my day job.
Now, I'm happy to report the business is truly thriving and growing. Outside of work, I'm a mom of two, and I love to spend time with my children, travel, read just about any book I can get my hands on, cook—especially if it's for an occasion with friends and family—and play the piano.
See also: Designing Second Homes With Barclay Butera
Do you have a particular style, or are you known for a particular style?
At Kathy Kuo Home, our motto has always been "love where you live," so regardless of what design style a client or customer is in search of, we want that sense of joy and wonder to be first and foremost. That said, our design team and our product assortment both have come to be very well-known for eight core styles: French Country, Coastal Beach, Modern Classic, Rustic Lodge, Global Bazaar, Hollywood Regency, Industrial Loft, and Midcentury Modern.
What do you enjoy most about being a designer?
I love helping our customers and clients find joy in their homes. For me and my team, it's not just about arranging furniture in a room; it's about the magic of the decorative arts and about solving the puzzle of how to make a space sing. Ultimately, I love when we can deliver an interior design that looks phenomenal but is also full of purpose and function for whoever is living in it.
Where do you get your inspiration from?
Travel is my biggest source of inspiration. Growing up, I traveled a lot, and by age 30, I had been to 30 different countries. This was largely due to my father's job as a diplomat, and my career in product development, which took me to the far corners of the world to source and seek the best artisans and manufacturers for our wares. Memories of souks, bazaars, night markets, and artist communities—and the color, pattern combinations, shapes and silhouettes, and history and culture that I saw there—all ultimately project onto my interior designs.
Where do rugs fit into your overall design process?
Rugs are an essential piece of any interior design project. I feel that rugs are central in bringing warmth, comfort, and cohesion into any home. Whenever our design team is working with a new client, we want them to feel like the rugs they select truly set the tone for the rest of the room and frame the space. The right rug can make a very formal room feel a little bit more relaxed and vice versa; it can add sophistication to a more casual space.
What's the most important thing to you when choosing a rug?
The most important factors when choosing a rug are selecting the right size and color for the space, as well as the right patterns and styles that fit your overall aesthetic. Then you'll want to think about your lifestyle and your family. Do you have pets or children? Will the rug be in a high-traffic area where you'll be entertaining? I always encourage parents and pet-owners to consider performance rugs, and I always advise customers to do research on the different materials and pile heights available. It never hurts to order a sample to make sure you like the look and feel of a rug.
What are the most popular colors, construction, material, etc. of rugs chosen for your design projects?

Right now, we see a lot of popularity with rugs in warm neutral colors and patterns, as well as in rugs that have a bit of a relaxed coastal vibe to them. I think after this past year where we were all at home so much more, many people wanted to make changes in their home decor to make their spaces feel at once clean and peaceful, as well as relaxed and inviting.
See also: Feng Shui for Interior Designers
What's the typical process you go through with a new client?
For new design clients, the first step is a kickoff phone call to discuss the scope of the project, size of the space, budget, aesthetic and colors, any non-negotiables, and what to expect from the given package. You'll also get an introduction to the designer who will be working on your project. Next, you'll be introduced to your designer for an in-depth consultation on your needs and preferences. This is when you'd talk about measurements, inspirational touchpoints and share photos of the space as-is.
Once you send your measurements along, you can expect to see a draft of the first design within a week and each subsequent revision in 3-4 business days. The ultimate goal is to have the design process wrapped up—for one room—within 30 days. 
As a designer and business owner, I really take pride in our process because we really do have such a buttoned-up approach. The fact that we can turn around first designs and potentially enter order procurement within a two-week time period–depending on client approval–sets us apart in the industry. 
From there, you should plan to give yourself 2-4 weeks to receive individual pieces and 3-4 months for the entire order process, depending on the size and details of the project. Also, when it comes to delivery and installation, I always recommend white-glove shipping and shipping consolidation to make the process as smooth as possible.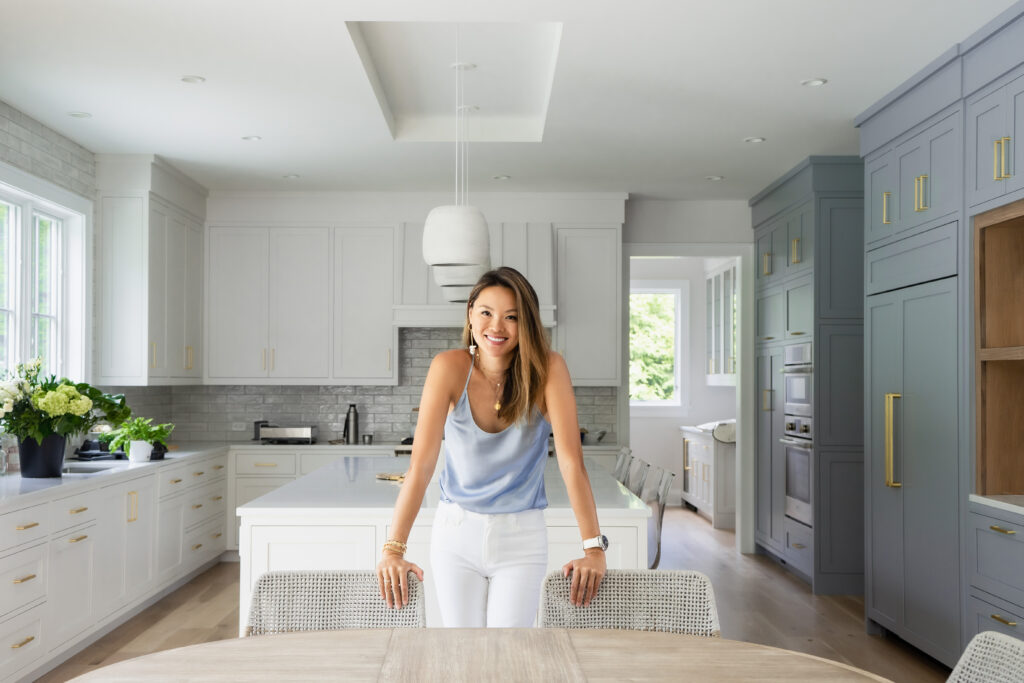 Can you share a bit about your unique business model?

At Kathy Kuo Home, we are proud to offer three distinct arms of our business: retail, design services, and trade. The retail aspect is our product assortment—which, I have to say, is truly unrivaled in the luxury homewares market. Customers can visit our website or our new retail space in Southampton and shop from our wide array of vendors. The design services piece is where we have a team of accredited interior designers, as well as dedicated project managers, in-house to deliver interior designs of all scopes and sizes. You can do a single room design, or we can literally help you furnish and design a new-build home. Finally, we also offer a wholesale trade program, by application, to members of the interior design community.
What advice would you give to a new designer trying to build their business?
I've always been passionate about helping fellow design enthusiasts, especially other female entrepreneurs and working parents, in achieving their goals and making a difference in the industry. I truly feel like a collaborative spirit is a rising tide that lifts all boats!
I would say follow your heart and apply to a design program, reach out to anyone you know in the industry, become a sponge and soak up all you can about the design and home interiors world through books, magazines, blogs, and social media accounts—and then let your intuition be your guide!