"In podcasting, it feels like we are just hitting our stride with tons of excitement and evolution ahead of us." —Luann Nigara
Communicating digitally has arguably never been more important. Enter the world of podcasts, a communication channel that only continues to rise in popularity, cultivating a sense of virtual community—from the daily news to the interior design industry. Here are four Jaipur Living podcast moments.
Hot Young Designers Club
For designers Rebecca Plumb and Shaun Crha, hosts of the Hot Young Designers Club, podcasting is a way to connect with fellow designers. "We met in early 2020 and immediately started spending hours on the phone making each other laugh and lending support as business owners and friends," says Plumb. "After a couple months we knew that our conversations could benefit a wider audience of designers." 
"We wanted to create a way for designers to connect to one another away from social media, and the first round of COVID-19 shelter in place orders gave us the motivation to start," adds Crha. 
Jaipur Living CEO Asha Chaudhary joined the Hot Young Designers Club conversation to discuss women in leadership, the custom rug program, and more.
A Well-Designed Business
LuAnn Nigara, host of A Well-Designed Business, the No. 1 podcast for interior designers, started her podcast after working for more than 30 years in the industry as a co-owner of Window Works. "I wanted to help all designers become better business owners, so that their talents could provide them a lifestyle that was on par with their ability to create beauty for the rest of us," says Nigara. 
Her content has clearly resonated. "I started listening to LuAnn Nigara's A Well-Designed Business while I was in design school," says Crha. "I wouldn't have had the confidence to start my business without her show, and I love seeing how my perspective has changed over the years."
Listen in as Jaipur Living's Nitesh Chaudhary discusses the award-winning Manchaha program, Asha Chaudhary looks at the brand's trade program and socially conscious business model, and interior designer Kate Lester gives a behind-the-scenes look at her Harman and Harman Natural collections on A Well-Designed Business.
Inside Design With Kandrac & Kole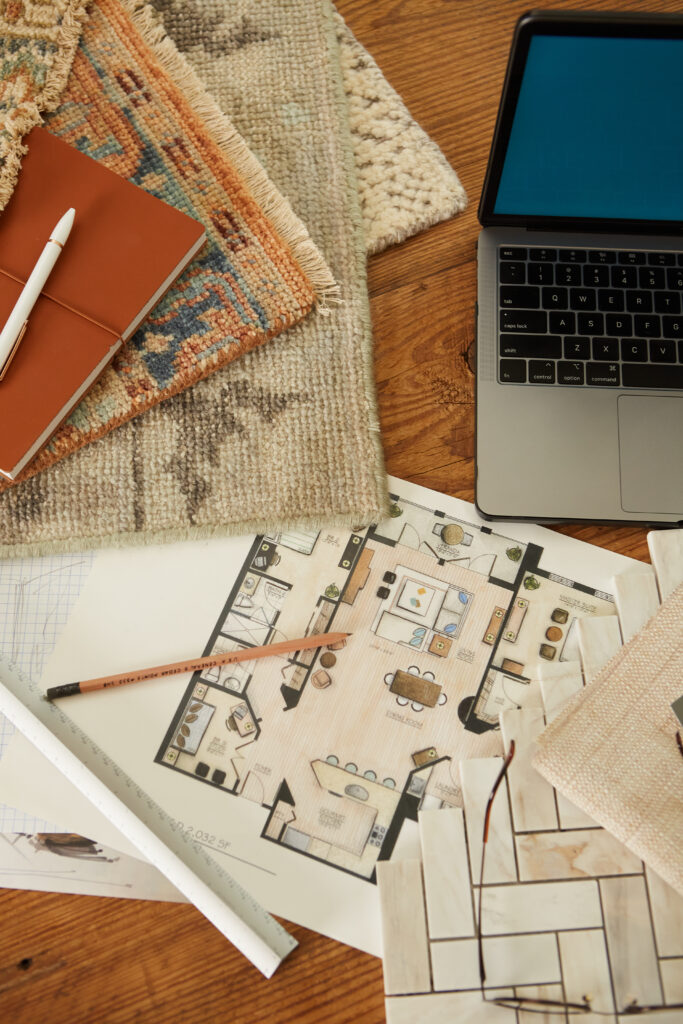 Atlanta-based interior designers Joann Kandrac and Kelly Kole also used the pandemic as a chance to enhance their digital presence with their Inside Design with Kandrac & Kole, which launched in 2018. "As we all know, being sequestered to our homes during the pandemic has created an unquenchable demand for home improvement," says Kole. "Society also became more in tune with digital life—Zoom meetings for work and podcast listening for enjoyment has become a way of life. So the two together—interior design and podcasting—is a natural combination that we think will continue to grow. Inside Design with Kandrac & Kole is unique in the podcast pool because we are experienced, working designers still out there in the trenches while podcasting at the same time. Listeners are enjoying our energy, our approachability, and most importantly our desire to share our knowledge."
Jaipur Living's Yash Ranga also joins the podcast hot seat to discuss the Chaudhary Family of Brands' role in championing the age-old art of handcrafted rugs, promoting sustainable growth, and supporting artisans and craftspeople. "Connecting with Yash while he was home in India was a unique experience for us," Kole says of the experience. "Learning about the grassroots developments that Jaipur Living and Jaipur Rugs are leading is mind blowing. The efforts the Jaipur Rugs Foundation is having on enhancing the livelihood of its artisans makes Jaipur Living a very special company. Learning about these details with Yash made us want to run out and invest in a Jaipur Living rug immediately so that we can be a part of the movement!"
So… Why Podcasts?
"The platform has a sort of intimacy to it," says Nigara. "As hosts and guests, we're not 'performing.' We are having a genuine conversation. I think this kind of sharing builds bridges, connecting us in a unique way and ultimately creating a feeling of belonging to a community." 
For anyone thinking about creating their own podcast, keep in mind that it's a true business." It takes a lot of energy to create a weekly show along with each of our design businesses," says Crha. "It helps to develop an episode schedule and a business strategy before your first episode publishes."
One thing's certain: The future of podcasts looks bright. "In podcasting, it feels like we are just hitting our stride with tons of excitement and evolution ahead of us," says Nigara. "We are witnessing it now become more polished and mainstream. I do think the best is yet to come and I'm happy to be part of what feels like a ground-floor opportunity."
For more of Jaipur Living in the news, check out our press page highlights.